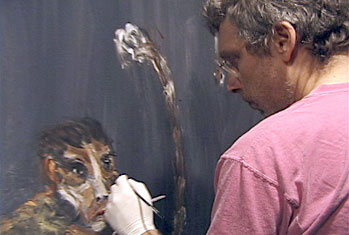 I was born in 1953 on Riverside Drive in Manhattan. Shortly after I was four, my family moved to the Marble Hill section of the Bronx. My father, Simon Hafftka, and mother, Eva Hershko, were refugees from Europe and survivors of the Holocaust. My father and his cousin Alexander Hafftka were the only survivors of a large family whose great uncle was Dr. Waldemar Mordecai Haffkine (the scientist who developed the vaccine for Cholera). Much of my understanding of the world came from my perception of my parentsí wartime experiences. A strong desire for freedom was among the host of determining factors and experiences that later brought to bear on my becoming an artist.
My mother died in 1972 and I went to Budapest (on the earnings I made working in a bike shop and as a sales clerk in an Army & Navy store) to meet my maternal grandmother whom I had just discovered was still alive. My grandmother didnít speak modern English; she spoke to me in the English she learned from reading Shakespeare. It was a funny and poetic experience. On the way back from Budapest, I went to Barcelona and lived like a hobo for several months. I was moved by all the art and architecture I saw. The buildings of Gaudi especially struck me.
I feared going to Vietnam. I had been turned down as a Conscientious Objector, but being number 13 in the draft lottery, I was sure I would be drafted. Luckily the draft ended the year I could be called. After traveling to Germany, Hungary and Spain I came back to the United States. In New York, I often went to the Museum of Modern Art and the Metropolitan Museum of Art. I made money peddling jewelry in front of Bloomingdales and peddling my own photographs in front of the Met and MOMA. I had also been working in a camera shop.
In 1972, I went back to Barcelona for six months. In Barcelona, I wrote poetry and observed a foreign land with a childish freedom that came from not knowing the native language. When I returned to New York, I continued to peddle. In 1973, when the Yom Kippur War broke out, I decided to volunteer to work on a Kibbutz in Israel. To get the fare, I sold my camera to pay for half of the fare. The Jewish Agency of the State of Israel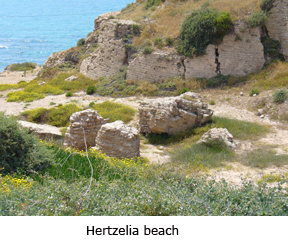 paid for the other half after I agreed to work for at least one year. In the center of the kibbutz was a water tower. It was the tallest structure in the area. I made a studio in a room under the water tank. After a year I moved to Hertzelia where I lived in a shack in the middle of an orchard just a short walk away from the Mediterranean Sea.
I would arise in the morning, pluck the fruit from a tree, swim and paint day and night. I decided to move back to New York where I could pursue a career as an artist.
I did not make a single sale or receive an offer for a show until 1976 when on the suggestion of Ivan Karp of OK Harris. I was invited to show in the artist owned Rabinowitch and Guerra Gallery. For a living I did free lance paste-up & mechanical work and truck driving. I was a long way from the orchard. The next time I ever showed my work was when my Tree of Life, 1977, was included in a group show at the Cathedral of St. John the Divine.

I asked the art historian Myer Shapiro if he would look at my work. He generously said yes. This was before 1980 and I visited him in his west village home to show him some of my work. He looked at each of my paintings for a long time. We had an amazing conversation in which he pointed out things I wasnít aware of, some of them things I thought I was doing when in fact I was doing the opposite. Professor Shapiro was instrumental in my seeing how much ornamentation was in my early work. His influence helped me pare away what was needless and superficial.
In the beginning showing my work to dealers was depressing. I would walk from gallery to gallery up and down Madison Avenue and dealers, if they made any time or deigned to look at my slides, would hold the slides briefly up to the light and often comment ďoh figurativeĒ as if they had just seen a pile of dog poop. One day, walking on Madison Avenue, I saw a beautiful painting in a gallery window. I loved the painting and went inside to inquire about it. It was a Norris Embry painting and the Gallery was the Gruenbaum Gallery. I asked Tom Gruenbaum to put me in contact with Norris Embry. He told that Mr. Embry does not like to hear from anybody, that he lives as a recluse in Baltimore. I left disappointed. Somehow what Mr. Gruenbaum told me struck me as untrue. When I got home I looked up Norris in a Baltimore phone book and sent him a letter. I receive an amazing response filled with excitement, enthusiasm and generosity. We became fast friends and corresponded for several years until his sad death in 1981. My wife and I visited Norris in Baltimore and found him living in dreadful conditions in a filthy flat. He was living on social security and Tom Gruenbaum was paying his rent. Every 6 months or so Gruenbaum would come with art supplies and take new paintings back to the gallery. Occasionally Gruenbaum gave Norris a few bucks. It struck me as an unfair situation. Norris was alone and afraid of losing the little he had, so he was reluctant to rock the boat. I got to know Tom later, he actually was a nice guy, not really abusive of Norris, but he was patronizing.

Tom Gruenbaum gave me my first opportunity to show in a 57th Street gallery when in 1980 he included my work in a group show along with Norris Embry, Jan Muller, Giorgio Cavallon and George McNeil. At that show I met George McNeil and he invited me to visit his studio in Brooklyn (close to where I would eventually live). I was impressed with how George McNeil still stretched and re-stretched his canvasses even though he was over 80 years old. He was very nice to me and appreciated my paintings. His house was unreal in that he had paintings everywhere. There were shelves and shelves with paintings, in closets, high up along walls, anywhere. He seemed to know where everything was and where to grab a painting to show me. He was a sweet man.
At that time I met the publisher of Urizen Books and he hired me to do book covers for two of Michael Brodskyís novels, Detour (first edition 1981) and Wedding Feast (1981). At the publication party for Mr. Brodsky, Kevin Begos approached me and told me he would like to publish a book of my drawings. He published Michael Hafftka Selected Drawings and the pamphlet Art of Experience/Experience of Art in 1982. The pamphlet was a strong response to what I saw around me in the galleries and to my continual rejection from exhibitions. I was a very angry young man.
My first solo show was in the upstairs gallery of the famous Gotham Book Mart, where the James Joyce Society used to meet. Kevin Begos, the publisher of Guignol Books, arranged the show to coincide with his publishing of Michael Hafftka Selected Drawings. Frances Steloff was still at the Gotham Book Mart. She was one of my heroes because she knew and supported many of the writers I admired, foremost among them Henry Miller. Some of the paintings at that show appeared later in the film Pointless Gesture by Jon Rosen, which documented my performance on 57th street standing with my paintings at the entrance to a building that housed many of the then successful galleries.
Barbara Flynn of Art Galaxy bought the drawing book and then, in 1983, offered me my first one-person show at an art gallery. Five of the seven paintings were sold to prominent collectors. These were my first sales. Robin Symes and Christo Michaelides first saw my work in this show and consequently created a large collection of my work, which later became tangled in the controversial fall of Robin Symes. Afterwards I showed at the Rosa Esman Gallery in New York and eventually in galleries in Europe and Japan and throughout the United States. My work was acquired by MOMA, the Met, the Carnegie Institute and the San Francisco Museum of Modern Art. Ten etchings from the suite Incisions were shown in the Naked Nude show at the Museum of Modern Art in New York. I also had a show at Carnegie Mellon with a catalogue essay by John Caldwell, who at the time was the Curator of Contemporary Art at the Carnegie Institute. John Caldwell was a close friend up until his untimely death in 1993.
When I was showing at the Rosa Esman Gallery, Francis Bacon was coming to the US for one day for the opening of his show at the Marlborough Gallery. Rosa Esman invited me to join her so she could introduce me to Bacon who I admired tremendously. I knew all his paintings, I had studied them in detail, and I was impressed with his book of interviews (Interviews With Francis Bacon: The Brutality of Fact by David Sylvester). For me this book was one of the most important documents of my time about art and painting. Bacon had a reputation for being harsh and sometimes nasty. I heard that he was very critical of the artists loosely grouped together as neo-expressionists, who I was sometimes bunched with. When I met him I handed him a fist full of reproductions of my paintings and, to my surprise, he took the time to look at all of them on the spot and he told me he though they were beautiful and asked to keep them.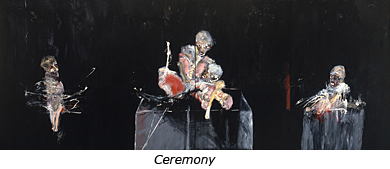 I continued to paint from my dreams and visions and to paint portraits of my friends (although there was no attempt at creating a visual resemblance). I was after a spiritual realism and I felt I was on the right track toward achieving my desires. All the while, painting for me was in itself a guiding light. Wherever the work led me I would follow. It was in this manner that I began to explore both the subject matter and the substance of paint. By 1987, I had developed a very clear and distinct vision. I began to paint a group of works that culminated in my painting Ceremony. This group of paintings was shown at the DiLaurenti Gallery in Soho. Sam Hunter wrote the catalogue introduction.
In 1989, Aberbach Fine Art began to represent my work. Jean Aberbach showed my work in a one-person exhibition at the Art Cologne International in 1991. I began to work more directly from life and embraced realism and observation. I was fascinated with using all that I saw on the outside to convey my inner psyche. Regrettably, Mr. Aberbach died in 1992.
In 1993 when I turned 40, I had a strong vision and this culminated in the painting 40 Years. I gave up realism, except for the occasional portraits, to work exclusively from my inner visions. I feel tremendously appreciative that the source of my vision has not dried up. In 2004 the Housatonic Museum of Art in Bridgeport Connecticut gave my work a retrospective of large oils 1985-2003. Michael Brodsky wrote an introduction to the catalogue in addition to a new essayy by Professor Sam Hunter.
In 2005 I completed a book of imaginative vignettes that I began writing in 1973 when I first started painting. These stories are integrally connected to my visual work. I then drew drawings for this book, Conscious/Unconscious. In 2006 Che Elias of Six Gallery Press accepted it for publication and it came out in 2007. The book received several favorable reviews including one at the Dalkey Archive Press, The Review of Contemporary Fiction.
Working with Che Elias opened a new door of creativity for me. I became a partner with Che in Six Gallery Press and collaborated with him by illustrating two of his books. Subsequently I went on to publish and design books for authors Michael Brodsky, Peter Klappert and others. I drew illuminations of the Hebrew alphabet, which were included in a major show of my work at Yeshiva University Museum, New York, NY. I drew drawings for Peter Klappert's suite of poems Circular Stairs Distress in the Mirrors and published it in 2008. At the same time I began painting illuminations for the Zohar based on the new translation by Daniel Matt, The Zohar, Pritzker Edition. The first group of these paintings, for the introduction (Haqdama) and the first section (Bereshit), were included in the one-person show at Yeshiva University Museum in April-September 2009 and at The Mizel Center for the Arts, Denver, Co., September-November 2009. Daniel Matt gave a talk about the Zohar and my work in conjunction with my show at the Yeshiva University Museum.
A major collection of my early work, hidden for many years, has resurfaced in 2011. Londonís best-known and most successful dealer in antiquities in the 80ís, Robin Symes, and his partner Christo Michaelides had the largest collection of my early work of any private or public collection. The paintings have never been in any of my shows since my selling them to Robin and Christo in the 1980ís. The paintings hung at the Rockefeller Guesthouse on 52nd Street, a building designed by Philip C. Johnson in 1948,which at that time was owned by Robin and Christo. I have not seen theses paintings for many years, nor did I know where they were since Robin Symes sold the Rockefeller Guesthouse to Ronald S. Lauder in 1989. Robin Symesí rise and fall are described in the publication by Peter Watson and Cecelia Todeschini entitled The Medici Conspiracy: The Illicit Journey of Looted Antiquities—From Italy's Tomb Raiders to the World's Greatest Museums (2006).
Robin Symes' misfortunes intensified dramatically when Christo Michaelides, his life long partner, died in a freak accident in 1999. Robin alienated the family of his late partner, son and heir of the Papadimitriou shipping family, and they spent millions on proving legal claim to half of the Robin Symes' assets. Dimitri Papadimitriou, the head of the family, won the legal battle. This loss pushed Symes into bankruptcy that resulted in his conviction and incarceration in January 2005. My work was one of Robin Symes' hidden assets for many years and in 2011 some of it resurfaced at Thrive Decor of LA.
Music has had a profound effect and involvement in my work. I have collaborated with Jemeel Moondoc on our duo Yellow Back Radio Breakdown CD and concerts. Butch Morris, whose portrait I painted and it's now in the permanent collection of SFMOMA, Johnny Reinhard, and Noah Creshvesky. Noah sat for a portrait and created a musical portrait of me. Since then he has mentored me in music theory. I played guitar and bass for Jandek in NY concerts. After playing the Jandek concerts in Brooklyn I was offered a show at Vaudeville Park an alternative art and performance space in Bushwick and Williamsburg. It was a great show and it was written about by Michael Brodsky. My music compositions are ongoing with my wife Yonat Hafftka who plays Theremin. We formed a collaborative unit we call Feeding Goats and we have included many other musicians with us in its explorations. My graphic scores were exhibited by the Hannover Opera House and I was chosen as the annual artist to be featured in the Opera House catalogue.
I had a major show of works at George Berges Gallery in SoHo in Manhattan in 2015. It was written about in Artnet and San Francisco Arts Quarterly, NYAQ, LXAQ. I had a show in 2019 at Sauf Gallery in Paris and my next show will be with Gallerie Zadra in Basel, Switzerland.
In 2022 Hafftka joined Web3 as it entered the bear market. Despite market conditions and within eight months his digital works reached ATH of 30 ETH on SuperRare. HAFFTKA PEPE edition reached in excess of 3.2K owners.
I live and work in Brooklyn, New York.